Media Kit
Heather is available for speaking opportunities, interviews, events, workshop collaborations, podcast discussions and publishing opportunities around career clarity, finding your life passion, introversion, highly sensitive people, empaths, introverted feminism, empathic female leaders, creativity, workplace wellness and self-development.
Official Bio
Heather is a passionate award-nominated international career + life coach, mindfulness meditation teacher and writer who loves supporting introverted, empathic and highly sensitive women. Through heartfelt and practical one-to-one coaching, intuitive vision board workshops and inspirational articles, she helps women to feel calm and confident to grow their career and spark their passions! As a sensitive woman herself, Heather understands and feels the struggles of navigating an extroverted world as an introvert and helps her clients feel comfortable in their sensitive skin, to find their voice and finally live in alignment with their true sensitive nature.
Heather loves working with introverted, empathic and highly sensitive women who are ready to unlock and love their sensitive side, so they can break free from procrastination to feel confident and empowered by their sensitive skills. Her clients are passionate, heartfelt, ambitious and all have a desire to understand their purpose and meaning, so they can step up into leadership roles, spark their creativity, find their unique voice, start a business, shift careers and step outside of their comfort zone to feel worthy, unapologetic and confident to live a nurturing life they love.
Heather created CalmPassionate Coaching after seeing so many women put themselves down, talk themselves out of the life they deserved because their sensitive nature wasn't serving them, especially in the workplace. She loves seeing her clients believe in their own worth, speak their truth and live a nurturing life they love by powering forward in the career of their dreams.
Personal Bio
Heather is a calm and passionate advocate for sensitive women, who truly believes that when women learn how to unlock and love their introverted and sensitive powers, they can finally speak their truth and live in alignment and not against their sensitive selves. Heather is also a speaker, writer, introverted feminist, child protection advocate, digital marketer, graphic designer, workplace wellness advocate and a mindfulness meditation teacher. She is a calm but fierce advocate for women's rights, gender equality, mental health and period poverty. She loves reading, writing, opening up her creativity, sugar-free baking and going on walks with her husband and pup. 
When Heather isn't coaching incredible and ambitious women, she's hanging out with her hubby and puppy in Melbourne, catching up with her family and friends in England, doing yoga, meditating, drinking bucket loads of tea and reading all the books in her local library. She also likes to sleep. A lot.
Education
Heather is a proud Certified Beautiful You Life Coach and Affiliate. Prior to life coaching, her background is in digital marketing and fundraising for Not-For-Profits across the UK and Australia. She has a degree in Graphic Design from Kingston University in London, holds a Foundation Degree in Art, Printmaking, Illustration and Photography from the University of the Creative Arts in the UK, and is a qualified meditation teacher through the Australian Yoga Academy and Dream Haus in Berlin. As an avid bookworm and #girlnerd, Heather loves to learn and invests regularly into further deepening her practice, broadening her skills and is a dedicated student of lifelong learning.
Logo

Awards Nominations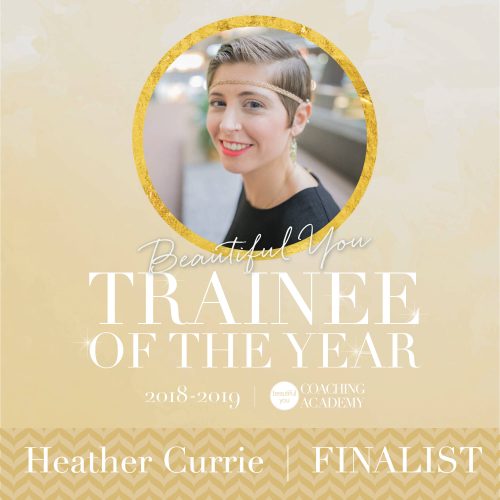 Approved Images